Silk Flower Arrangements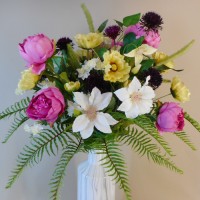 Silk Flower Arrangements | Artificial Flower Vases
Decoflora's collection of luxury silk flower arrangements is simply amazing. The painstaking botanical accuracy that goes into the manufacturing of modern day fake flowers is such that they are often extremely difficult to distinguish from the real thing.
Professional interior designers have for many years valued the beauty and authenticity of quality modern silk flowers when completing a scheme. Now we can all follow their design lead and use stunning and beautiful silk flower arrangements to add a design led finishing flourish to a room.
TOP TIP - Following seasonality is essential to complete the illusion. Don't forget to rotate your faux flower arrangements with the fresh flower growing seasons. No-one will be convinced by silk daffodils if they are still displayed in September!