Crystals, Pearl Beads and Corsage Bracelets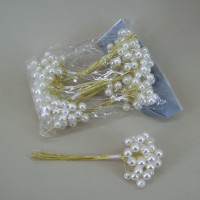 Crystals, Pearl Beads and Corsage Bracelets ready to decorate
The art of beading flowers using wire and delicate beads is one which is thought to date back as far as the 15th century, specifically to Venice where skilled craftsmen produced glass beads in quantity. It is thought Venetian women of more limited means would craft these beads into wire and bead flower sculptures, bouquets, wreaths, table arrangements and other floral works of art to make their living.
Recent years have seen a resurgence in the popularity of this simple yet elegant craft with many ready wired crystals and pearl beads available via florist supplies specialists like Decoflora.
Adding crystals and pearl beads can transform the most simple posy of artificial flowers.
Looking to make your own wrist corsage for a wedding or prom night? Choose from our popular range of corsage bracelets. Whether you want simple, understated bead bracelets or luxurious, bling bracelets we have all bases covered at Decoflora.