Gladiola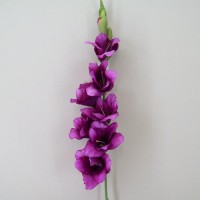 Gladiola| Artificial Flowers
Gladiola have a thick stem with multiple blossoms located along one side of the stem. Blossoms may be plain, fringed or ruffled and are usually trumpet shaped and often are bold in colour.
The name is derived from the Latin word gladiolus, meaning small sword, and fiery swords are indeed what these flowers resemble most, with their bright colours and erect buds.
Gladiola artificial flowers are excellent line flowers and are frequently used in sympathy work. The individual blossoms can be used in corsages and can also be glued or wired together to make composite flowers.
Showing 1 to 7 of 7 (1 Pages)