Wedding and Artificial Bridal Flowers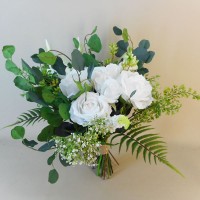 Bridal and Wedding Silk Flowers and Arrangements
Wedding Silk Flowers & Bridal Arrangements by Decoflora
We specialise in bridal and wedding silk flower bouquets and posies with beautiful silk and foam flower bridal wreaths, garlands, buttonholes, boutonniere and corsages,

floral hairpieces, arrangements, wishing trees and wedding table centers. In fact we have all you need to complete your wedding day celebrations here

at Decoflora,even 'thank you' bouquets for your mums and helpers!

Our fabulous traditional silk and artificial flower wedding collection comes in a range of colours from traditional white, cream and ivory through to deep

burgundy, pinks, terracottas and other colourways with a choice from our exciting range of bouquets, posies and decorations to make both bride and

bridesmaids look even more beautiful on that special day. All flowers are of the highest quality silk or foam to guarantee an allergy free day and ensure

that your flowers look just as good when you celebrate your wedding anniversary as they did on the day you married.

Our silk wedding bouquets and hair flowers from www.decofloradesigns.co.uk for winter weddings or contemporary weddings provide a dash of

sophisticated colour to your special day and will guarantee gasps of admiration on the day!

Visit our wedding accessories section for a selection of finishing touches. We stock floralytes, crystal pearls, table crystals and more to add a touch of

glamour to your wedding reception.

You can have your flowers well in advance of the "Big Day". If you chose a Fresh Florist, you will not see "your" flowers until, literally "moments" before

you walk down the aisle - what if they don`t match your expectations of colour, shape or size? OURS WILL! Equally suitable for spring, summer, autumn

and winter weddings, our vintage bridal collection will provide a dash of sophisticated colour to your wedding day and will guarantee gasps of admiration

on the day!

The delicate appearance of this bridal flower range is deceiving. The craftsmanship is such that each of this vintage foam flower bridal range is robust

enough to withstand transportation which makes them perfect for weddings abroad and particularly suitable for the younger bridesmaid. No need for

constant reminders to be careful with their wedding flowers - our range of antique style bridal posies are tough enough to withstand the most energetic

toddler!

Why not replace the traditional guest book with a wishing tree to allow your guests to record their good wishes for the bride and groom?

The wishing tree is originally a Dutch wedding tradition. Each guest is given a piece of card, a pretty tag or notelet to write a message on for the bride and groom and then hang it from the tree. As the messages get written so the tree fills up with warm wishes.


As well as being a decorative focal point to the wedding celebrations the messages bestowed on the wishing tree give the bride and groom a lasting memento of their special day.

We are proud to introduce a new range of shabby chic, antique style bridal flowers. In soft muted colours

like lilac, cappuccino, peach and pale pink this stunning range of foam wedding flowers is handmade

and finished with luxurious pearl beading.

Each stem of flower and foliage has been lovingly hand wrapped and styled to create informal and lightweight garlands, wreaths, bridesmaids' posies and bridal bouquets. An assortment of foam roses come together to give a realistic and romantic effect that is uncontrived.

This up-to-the-minute range of vintage wedding flowers makes a perfect keepsake and lasting reminder of your special day. All flowers are of the highest quality foam to guarantee an allergy free day and ensure that your artificial flowers look just as good when you celebrate your wedding anniversary

as they did on the day you married.

Our vintage range of wedding flowers will become a family heirloom that will be treasured for years to come.....
There are no products to list in this category.