Gift Bouquets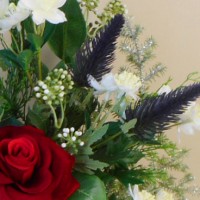 Artificial Flowers Gift Bouquets | An Everlasting Memento
Struggling to find the perfect gift for a special someone in your life? Want to send 'get well' flowers to hospital but they don't allow fresh flowers? Look no further as we have designed a stunning range of artificial flower bouquets with you in mind......Our team of florists have created a stunning range of hand tied bouquets of fabulous silk flowers and artificial leaves many of which are presented in suitably sized cardboard vases.
Many hospitals discourage caring friends and relatives from sending fresh flowers to their loved ones. The associated pollen can cause discomfort to some patients who may suffer from allergies and hay fever and staff don't have time to arrange and water them. Avoid these problems and send a florist prepared artificial flower bouquet. Help our nurses do the job they are trained to do and don't burden them with flower arranging and cleaning tasks that take them away from a very important role - caring for your loved one!
Artificial flowers are a lasting reminder of a special occasion, a kind message, a thank you, birth of a new baby or celebration. Whatever your reason, we have designed a bouquet that will fit the bill. A complimentary gift card is included. Just send us your message at the checkout.