Bridal Posies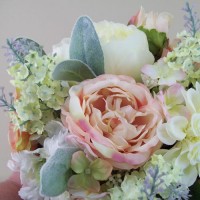 Bridal Posies | Wedding Bouquets made with love and Artificial Flowers
Posy wedding bouquets are an extremely popular choice among our brides. We believe this is because this bouquet style has a contemporary look and is easy to hold.
It is amazing how this simple type of wedding bouquets can be styled in so many different ways. Whether you opt for a simple posy of a single flower type and colour or a posy of mixed flower, foliage and textures there will be a posy to suit your style. Using silk flowers and artificial flowers removes the worry of wilting, colour matching and seasonal availability. Your flowers can be prepared well in advance of your big day and will continue to look fresh in every photo and for years to follow!
Check out our new website www.decofloradesigns.co.uk for a collection of silk hair flowers, jewellery, handbags and fascinators to complete your look.