Shower Bouquets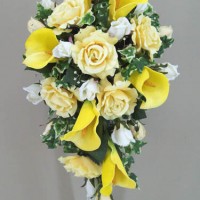 Shower Wedding Bouquets made with love and Artificial Flowers
Everlasting, heirloom shower bouquets, hand made with quality silk flowers by a team of experts at Decoflora UK primary silk flower specialists.
Shower bouquets are traditional teardrop shaped bouquets that are popular for brides to carry. At Decoflora we offer traditional and contemporary styles to try and suit all tastes and preferences.
With over 25 years experience (combined experience of over 60 years!) we aim to supply exquisite wedding flowers that will become family heirlooms for years to come ♥
Check out our new website www.decofloradesigns.co.uk for a collection of silk hair flowers, jewellery, handbags and fascinators to complete your look.
Showing 1 to 5 of 5 (1 Pages)