Deluxe Wedding Flowers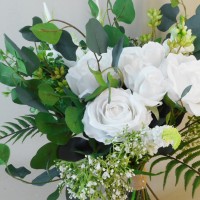 DELUXE FAUX WEDDING FLOWERS BY DECOFLORA - more styles and colours coming soon
Named after the beautiful lakes and fells surrounding our Lake District home and every bit as beautiful as fresh flowers, these faux blooms will look just as lovely on your wedding day as they will in years to come.
Your wedding flowers will be custom made to order by our in house florists so each one is a slightly different but the photographs on our website should give you a good idea of the end result. Please allow up to 28 days for delivery.
If you see the style you want but not the colour scheme you are looking for drop us a line via our contacts page and we may be able to help. Please include the product code of the style you like and some suggestions of which colours you wish to change.
After your special day your luxury faux flowers can be displayed in your home in a vase of your choice - a constant reminder of a momentous occasion ♥