Tales of Artificial Wedding Flowers - Ibiza
28 Jul

Posted By
0 Comment(s)
1469 View(s)
Artificial Wedding Flowers Destination Crisis
Working with brides to create their dream wedding flowers for their special day is always an honour and a truly joyful experience. We have the pleasure of preparing bespoke flowers for many couples who live in and around our home town of Workington on the edge of the Lake District in Cumbria. It's lovely to be involved with one of the biggest milestone's of their lives.
Demi was excited for her destination wedding in Ibiza and wanted to take artificial flowers with her for her big day. She had declined the fresh flowers included in her wedding package preferring to collect her flowers from us a couple of weeks before her wedding day, safe in the knowledge there would be no last minute surprises or shocks. We always ask our brides to collect their flowers early to allow time for last minute alterations, if necessary. We want to be certain all our happy couples are completely satisfied with their choices and artificial flowers allow the option of planning ahead.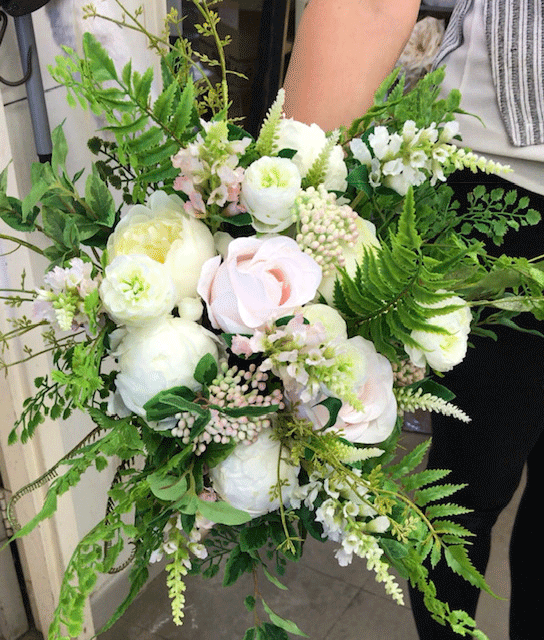 Our bride knew exactly what she wanted for her wedding flowers - light and airy, picked from the garden, loose and informal, natural and unstructured were all phrases used when she met with Vicky, our wedding co-ordinator. Flowers were colour matched to bridesmaids dresses and she was delighted when she came to collect her wedding bouquet, bridesmaids posies, boutonnieres, hair slides and flower wands well in advance of her wedding and honeymoon on the island of Ibiza. Plenty time for a dress rehearsal and hair trials.
On her return she shared many photos on social media thanking our staff and company for a job well done....
"my lovely wedding flowers! Thank you Vicky and everyone at Decoflora"
……. little did we know of the trauma that had happened the night before her wedding.
Several months later I had a meeting with a local insurance advisor who told me she had been a bridesmaid at Demi and Sutton's wedding. She showered us with compliments about the bouquets 'they looked real and even moved like fresh flowers, guests were smelling them expecting a rose fragrance, perfect colour to compliment the dresses' the praise was flowing. She then asked if I had heard the terrible tale of what happened to the flowers? My heart sank - had I made a terrible mistake when putting the flowers together?
The wedding party had been allowed an extra baggage allowance on the airline but it wasn't generous enough to accommodate the protective boxes we had put the flowers in so the bride and her bridesmaids each sacrificed some space in their suitcases and the bouquets were literally squashed in! On arrival at the hotel the bride took her bouquet out of her suitcase, shook them into shape, placed them in the hotel waste paper bin for support then put them carefully in the bottom of her wardrobe and started her wedding celebrations, not giving her flowers another thought.
On the eve of the wedding Demi and her bridesmaids spent the evening together making preparations. Dresses were hung, shoes and underwear were laid out, makeup at the ready and hairpieces were organised. Imagine the brides horror when she went to her wardrobe to find an empty waste paper bin!
It was assumed that the cleaner had mistakenly thrown the bouquet in the rubbish skip so the night staff and the bridesmaids rolled their sleeves up and spent the next three hours trawling through the hotel waste to no avail. Big shout out to the love shown by these heroic ladies but sadly the flowers were nowhere to be found (:
Of course the bride was tearful and distraught but the hotel's wedding organiser assured her that she would have a bouquet of fresh flowers made for her and Demi went to bed trusting that a florist would be found who was willing to burn the midnight oil to help her (florists all over the world are a special breed of people who will go the extra mile to say it with flowers). Meanwhile, unknown to the wedding party, the hotel duty manager organised a search of the cleaner's rooms in a last ditched attempt to find the original bouquet and it was his search that saved the day. The brides bouquet was discovered in pride of place in a vase in a cleaner's bedroom! I guess we should be flattered that someone thought our flowers were beautiful enough to risk losing their job for but who would do this to a bride???
Definitely a story to tell their grandchildren and a first for Decoflora. We have heard many wedding stories over the years but never one to rival this.
You will see from the photos below that the happy couple went on to have a wonderful day filled with love, laughter, family and friends and, of course, beautiful wedding flowers to cherish for years to come.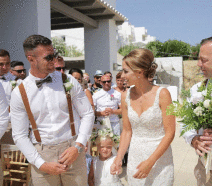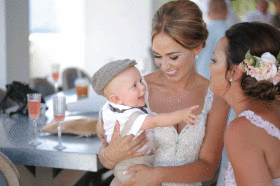 We wish Mr and Mrs Sutton a lifetime of love and happiness
Shop for artificial flowers to create the bouquet of your dreams at Decoflora