Tropical Arrangement DIY Tutorial
30 Sep

Posted By
0 Comment(s)
8819 View(s)
HOW TO MAKE A TROPICAL ARRANGEMENT SING FAUX FLOWERS
Select your ingredients and lay out so that they are easily accessible
We used the following:
GREENERY
Artificial Fern Leaves Spray - FER025 x 1
Artificial Parlour Palm Leaves - PM007 x 1
Real Touch Artificial Philodendron Leaf 104cm - PHI020 x 1
Artificial Cheese Plant Leaves - CHE003 x 1
FLOWERS
Artificial Hibiscus Spray White 81cm - H150 X 1
Artificial Hibiscus Spray Pink 81cm - H153 X 1
Artificial Hibiscus Flower and Bud Yellow 62cm - H048 X 3
VASE
Darcy Chours Stone Vase 33cm - LUX040
STEP ONE
Arrange the greenery to create the base outline for your arrangement, bending the stems at the bottom to the correct height.
The real touch philodendron leaf goes in the back to define the height. Next add the artificial fern leaves spray makeing sure the leaves are opened to a star shape and positioned low to conceal the nexk of the vase. The cheese plant leaf should be bent forward and down at the front of the display and finally add the artificial parlour palm leaf to add body.
STEP TWO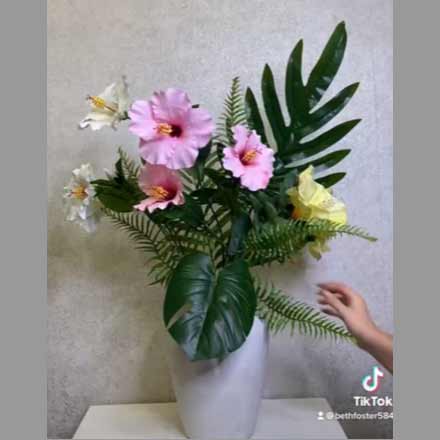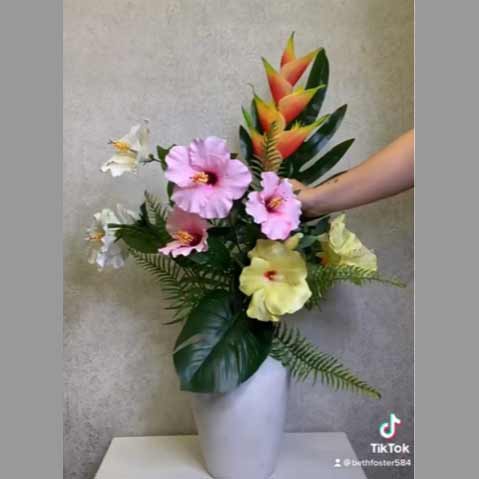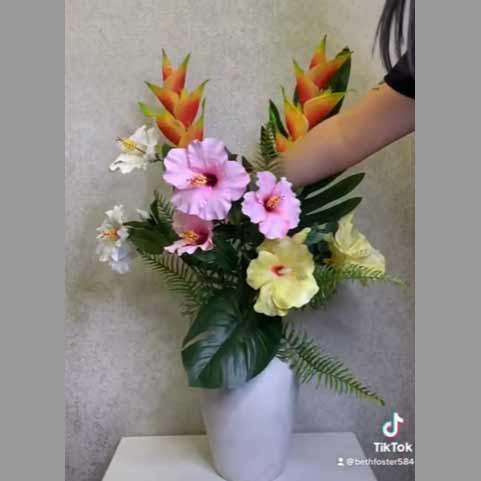 Add the flowers into the arrangement.
Start with white hibiscus to the left of the arrangement, spreading the flowers apart in a triangular shape. Then add the pink hibiscus to the centre of the display, again spreading the flowers in a triangular shape. Place the 3 yellow hibiscus in a horizontal line around the righthand side of the arrangement. When placing the hibiscus take care to ensure none of the flowers touch each other.
Finally add both of the heliconia. One to the right in front of the philodendron leaf and one to the left so that the 2 flowers form an elongated V shape.
STEP THREE
Place your arrangement in pride of place and enjoy!