Watch this space. Something very special is coming soon
02 Mar

Posted By
0 Comment(s)
4003 View(s)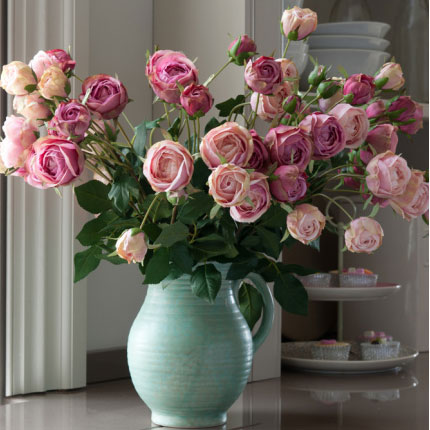 Team Decoflora are not known for sitting back and resting on our laurels - artificial or otherwise :)
We constantly carry out market research behind the scenes to try and give us a better understanding of the needs and expectations of our customers - past, present and future.
Back when we first launched our website customers told us:
"I want to shop by colour" - we added flowers by colour and foliage by colour categories to our top menu
"! don't know the names of flowers but I know which flowers I want" - we added a flowers by type category, with identification images, to our top menu
"I'm allergic to fresh flowers but want flowers at my wedding" - we developed ranges of wedding bouquets to suit all budgets
"Delivery is slow and I can't track delivery" - all orders are now delivered via a reliable courier service. DPD (UK), Fedex (Europe and extra long UK parcels) or UPS (rest of the world)
"I'm sending a bouquet or arrangement as a gift. How do I add a gift message?" - a gift message box has been added to all gift-bouquet and flower arrangement product pages
"I need to buy a gift but haven't got the funds at the moment" - we are adding Klarna, buy now pay later, to our range of payment options, hopefully Q2 2023
Loyal customers (past and present) have expressed their gratitude for our level of service, speedy delivery, dealing with (very occasional) issues and friendly call handling and above all they have told us that our wide ranging and ever evolving range of products is the reason they return to shop with us time and time again.
One recurring negative comment we heard was it wasn't easy to visualise our flowers in a vase or home setting so we are busy adding lifestyle photos to all our artificial flowers and greenery hoping that the extra images will discount this problem. We hope you are liking the results? Please let us know your thoughts in the comments below.
And most recently ......
A comment that caused us concern was that some potential customers were discouraged from buying faux flowers because they 'had little or no success putting fresh flowers in a vase so didn't want to invest in artificial flowers only to be disappointed with the results'. Now we strongly believe that faux blooms can offer the finishing touches to beautiful spaces and want them to be accessible to all so ........ drumroll please ....... we are launching a super, faux-tastic, new website, Decoflora Designs, that will offer specially curated, Decoflora designed, faux flower and greenery bouquets that will be delivered hand tied and cut to length, with the option of luxurious gift packaging if gifting to your special someone, ready to literally drop into a vase of your choice with no flower arranging skills required. We will even make vase suggestions that are the perfect fit for each bouquet.
We plan to offer, a range of deceptively realistic arrangements in modern designs, created by our team of resident florists using seasonal flowers and foliage that will compliment your interiors whatever your style. We are having so much fun putting together lifelike blooms and foliage in a vase range of colours, styles and sizes and can't wait to share them with you. From arrangements that could have been foraged in the wild to garden style selections, oh so cool and classic whites and greenery to summer brights and dark and sultry vibes we plan to cover all tastes and interior styling concepts.
Even though we have always strived to cover all bases when selecting our range of stems and plants, this process has highlighted gaps in our inventor!, We honestly couldn't believe it but a welcome added bonus to this exciting new venture is we are increasing our back catalogue of artificial flowers and greenery on our existing Decoflora website! A win, win situation - we hope you'll agree?
If you have any suggestions for us that will improve your shopping experience please help us to help you by dropping us a line via Contact Us. All reasonable requests will be considered. Our customers are the beating heart of our business and customer satisfaction is our ethos.